Easy Chocolate Cake Recipe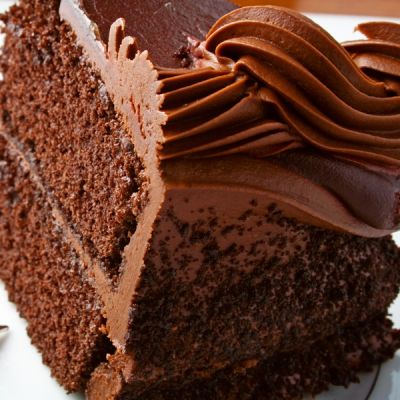 A sweet and easy chocolate cake recipe, this delicious dessert is great for any occasion.
Ingredients
Cake
1/2 cup butter, at room temperature
1 1/2 cups packed brown sugar
3 large eggs
2/3 cup dark chocolate, grated (or chips)
1 teaspoon vanilla
2 cups all purpose flour
3/4 cup unsweetened dutch cocoa
1 teaspoon baking powder
1 teaspoon baking soda
1/4 teaspoon salt
1 cup milk
3/4 cup sour cream
Chocolate Frosting
1/2 cup butter, at room temperature
3 cups confectioners' sugar
1/2 cup cocoa
1 teaspoon vanilla extract
1/4 teaspoon salt
1/4 cup heavy cream
Directions
Cake
Preheat oven to 350 degrees F.
In the top of a double boiler (or using your favorite melting method), melt the chocolate over low heat and set aside.
Grease with butter and flour two 9-inch round cake pans.
In a medium bowl, cream together butter and sugar.
Beat in eggs one at a time.
Add melted chocolate and vanilla; beat until combined.
In another bowl, stir together flour, cocoa, baking powder, baking soda, and salt.
In another small bowl, mix milk and sour cream.
Add flour mixture and milk mixture alternately to butter mixture, about a third of each at a time, mixing well after each addition.
Spread batter evenly into cake pans.
Bake 25-30 minutes or until a toothpick inserted in the center comes out clean.
Cool in pans for 10 minutes, then flip cakes onto racks to cool entirely.
Cool completely before frosting.
Chocolate Frosting
Using an electric mixer, Cream butter for 1-2 minutes.
Sift confectioners' sugar and cocoa into the butter bowl.
Mix on low until creamy.
Add vanilla extract, salt, and cream and beat on medium speed for 3 minutes.
Spread and pipe frosting onto cooled cake layers placed on a serving plate.