Easy Cream Puffs Recipe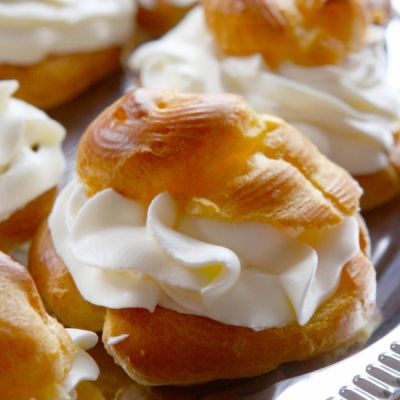 Always been intimidated by cream puffs? This easy cream puff recipe will make you feel like a baking rock star!
Ingredients
Serves 18-20.
Puff shells
1 cup water
1/2 cup unsalted butter
3/8 teaspoon salt
1 1/4 cups all purpose flour
4 large eggs
Cream filling:
1 pint heavy or whipping cream
1/4 cup granulated sugar, or to taste
1 teaspoon vanilla
Directions
Preheat the oven to 425°F.
Line 2 baking sheets with parchment paper.
In a medium saucepan, combine the water, butter, and bring to a rolling boil.
Remove the pan from the heat, and add the flour all at once, mixing energetically.
Return the pan to the burner and cook over medium heat, stirring constantly for about 1 minute.
Remove from heat and let cool for 10 full minutes.
Using an electric mixer beat in the eggs one at a time. Once the last egg has been added beat for 2 minutes.
Use a 1/4 cup measuring cup to spoon equal drops of batter about 2 inches apart.
Bake for 15 minutes.
Turn down oven to 350°F and bake for an 12-15 minutes, until golden brown.
Avoid peeking.
Remove the pastries from the oven.
Cut a small sliver in the top of each pastry and return them to the oven for 5 minutes, to allow the steam to escape.
Place them on a rack to cool.
Once cool. split each pastry each in half so there is a top and bottom section.
To make the cream puff filling:
On high speed with electric mixer, whip cream.
Sprinkle in the sugar and vanilla gradually until cream begins to stiffen.
Fill the bottom halves of the puffs with whipped cream, then replace their tops.
If you would like, you can use a piping bag to fill the cream puffs, which makes them extra beautiful.