Easy Crock Pot Beef Stew Recipe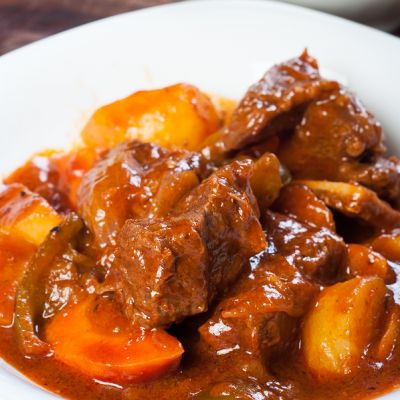 This easy crock pot beef stew is so easy to prepare and makes a nice juicy stew.
Ingredients
2 lbs stewing beef, bite size pieces
2 Tablespoons flour
2 Tablespoons olive oil
1 lb potatoes
1 lb carrots
1 medium onion, chopped
1 green bell pepper, chopped in large slices
3 cups beef broth
1 (162ml)can tomato paste
1 teaspoon garlic powder
1/2 teaspoon black pepper and 1/2 teaspoon salt
Directions
In a large skillet, heat a few tablespoons of olive oil over high heat and sear the meat for a minute or two on each side.
Put the meat into the crock pot and turn onto low.
Peel and wash the potatoes and carrots. Cut into large pieces.
Chop the onion and and slice the green pepper then add to the pot.
Pour in the beef broth and the tomato paste.
Season with the garlic powder, salt and pepper.
Cook on low for at least 6 hours.
Season to taste before serving.