Easy Herb Baby Potatoes Recipe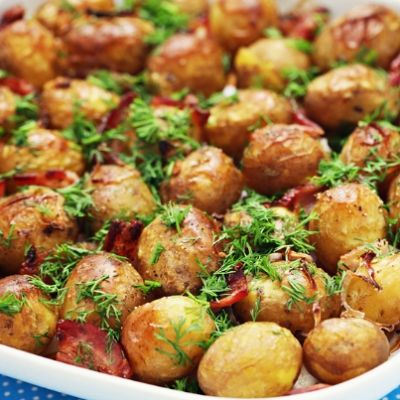 A perfect side to your celebrations.
Ingredients
1lb baby yellow potatoes
1 lemon, juiced
1 tbsp butter
1 tsp salt
1 tsp pepper
1 tbsp fresh oregano (or 1 tsp dried oregano)
5-10 baby tomatoes, halved
Directions
Barbecue purists, may decide to skip the boiling step, and go straight to the grill, but for the most tender potato, I recommending first boiling your potatoes for 5-7 minutes to soften them slightly.
Prepare a heat proof pan for the grill by lining it with tinfoil.
Take potatoes out of pot and coat with lemon juice, butter, salt, pepper and and herbs.
Put potatoes into tinfoil with baby tomatoes, and cook on a hot grill for 10-15 minutes, stirring often.
They are ready when deliciously browned on exterior.