Easy Homemade Bagels Recipe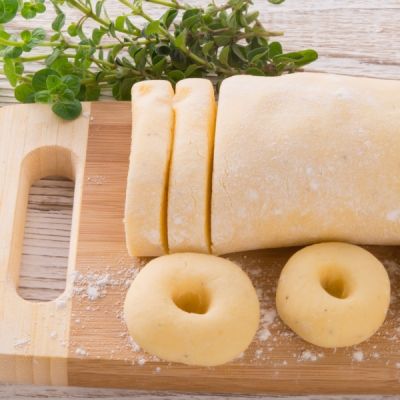 An easy bagel recipe using instant yeast. You can make your own bagels and serve them at an event. It will take a little time, but it is not difficult to do and homemade anything is fun to serve. Bagels are first boiled and then baked!
Ingredients
2 1/2 cups bread flour
1/2 teaspoon instant dry yeast
1 Tablespoon granulated sugar
1 teaspoon salt
1 cup lukewarm water
1 teaspoon granulated sugar
large pot of water (to boil)
Directions
In a large bowl, lightly mix together flour, sugar, and salt.
Add yeast and water, then knead together ingredients with hands to create a sticky but manageable dough.
Take dough out onto flat floured surface.
Knead dough firmly with your hands until the dough is no longer lumpy and powdery, approximately 15min.
Add sprinkles of water or flour as necessary to keep the dough manageable -- it will get elastic but pretty stiff.
Roll out dough into long tube and cut 1 inch sections as seen in picture.
Use your finger to poke a hole into the center of each piece.
Cover the bagels with plastic wrap and let rest for about 15 minutes (30-40 min during winter time).
In the meantime, fill a large pot with water and a teaspoon of sugar and bring to a simmer.
Preheat oven to 375F.
When the dough is ready, carefully drop them into the water (doing batches of 2 at a time) and let them simmer for about 15 seconds on each side, flipping them only once.
The bagels should float when ready.
Use a slotted spoon to remove bagels and place onto a baking sheet.
When all bagels are boiled and no baking sheet, bake for approx. 15 minutes, or until golden brown.