Easy Homemade Gummy Bears Recipe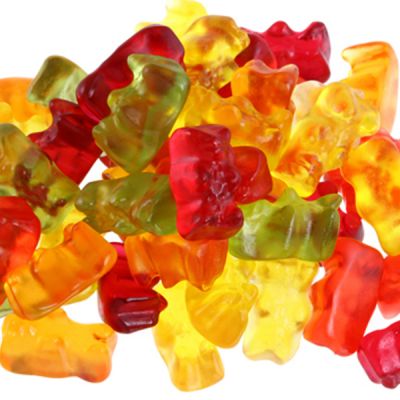 A homemade gummy bear recipe that the kids will absolutely love and moms do not have to feel guilty.
Ingredients
1/4 cup water
1/4 cup cane sugar
1/4 teaspoon red beet powder *found in health food stores Note: *For color - if you do not have red beet powder, you can also use a couple drops of food coloring.
1/8 teaspoon sea salt
3/4 teaspoon organic gelatin
Directions
In a small saucepan, heat 1/4 cup water, 1/4 cup sugar/ 1/4 teaspoon of red beet powder, and 1/8 teaspoon of sea salt until well dissolved.
Place 3/4 teaspoon of gelatin into a measuring cup (with a pouring spout).
Pour hot (but not boiling) liquid over top of gelatin and whisk vigorously until gelatin is dissolved.
Pour mixture into silicone gummy molds.
If you do not have special molds for this, line a flat try with parchment paper, and pour the gelatin into the tray. Once it sets you can cut it into long gummy worms or else use cookie cutters to make cute shapes.