Easy Homemade Mini Bagels Recipe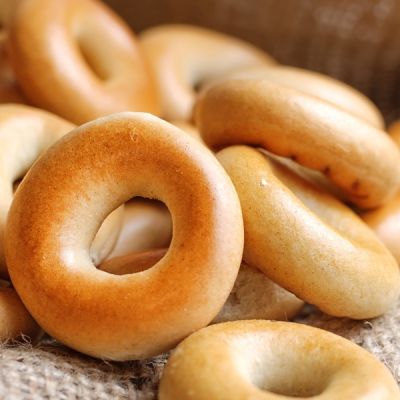 An easy and very tasty recipe for home made mini bagels.
Ingredients
1 1/4 cups water
4 1/2 cups bread flour
3 Tablespoons granulated sugar
1 teaspoon salt
2 Tablespoons vegetable oil
1 Tablespoon instant yeast
4 quarts water, for boiling
Directions
Combine 1 1/4 cup water, flour, sugar, salt, oil, and yeast in the mixing bowl of a stand mixer. Mix on low speed using the dough hook until well-developed, 8-10 minutes.
Transfer the dough to a lightly oiled bowl, cover it with a kitchen towel, and let rise for 2 hours.
Punch the dough down, place it on a lightly floured work surface, and use a knife or dough scraper to divide the dough into 12 pieces. Roll each piece of dough into a sausage shape about 6 inches long. Join the ends to form a circle. Repeat with the remaining dough, and let the bagels rest for 15 minutes.
Preheat oven to 475 degrees F. Line a baking sheet with parchment paper.
Boil the bagels, three at a time, until they rise to the surface of the pot, about 1 minute per side.
Remove the bagels with a slotted spoon and place them on the parchment-lined baking sheet.
Bake until the bagels begin to brown, 15 to 20 minutes.