Easy Homemade Profiteroles Recipe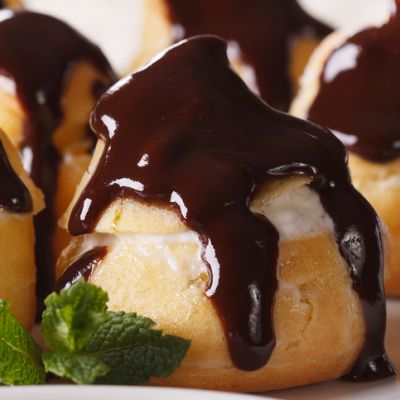 This recipe is for the homemade profiteroles filled with fresh whipping cream and drizzled with chocolate sauce. They are really very east to prepare even though they look like a complicated dessert.
Ingredients
Profiteroles:
(Makes about 20-24 small profiteroles)
1 cup water
6 Tablespoons butter
pinch salt
1 teaspoon granulated sugar
1 cup all purpose flour
4 eggs
Whipping Cream:
1 cup heavy cream
1 Tablespoon confectioners' sugar
1/2 teaspoon pure vanilla extract
Chocolate Sauce:
Makes approx. 1 1/2 cups chocolate sauce
3/4 cup granulated sugar
1 1/2 Tablespoons all purpose flour
1/2 cup unsweetened cocoa powder
1 1/4 cups milk
2 Tablespoons butter
1/2 teaspoon vanilla extract, or more to taste
pinch of salt
Directions
Profiteroles:
Preheat the oven to 425F.
Line a baking sheet with parchment paper. Set aside.
Put the water, butter, salt, and sugar in a saucepan and bring to a boil. Stir to combine. Shut off the heat.
Stir in the flour and mix in until it all comes together.
Reheat and beat vigorously until all the batter is off the sides of the pan. The dough will lump together and there will be a film at the bottom of the saucepan.
Transfer the mixture to a mixing bowl and using an electric mixer on low-medium beat the batter to break it up.
Beat in the eggs one at at time and keep mixing until the batter comes back together.
Transfer the batter to a piping bag.
Pipe 20-24 drops onto the prepared baking sheet.
Place into the preheated oven and bake for 15-20 minutes until the profiteroles are puffed up and golden brown.
Remove and place onto a cooling rack. Let sit a few minutes then slice off the top with a sharp knife.
Whipping Cream:
Chill a mixing bowl and the beater in the freezer for 15 minutes.
Using the chilled bowl, pour in the heavy cream and beat with an electric mixer until soft peaks form. Add the confectioners' sugar and vanilla and beat until firm peaks form.
Chocolate Sauce:
Stir the sugar, flour and cocoa powder together in a bowl. Use a whisk and make sure there is no lumps.
In a small saucepan heat the milk and butter over medium heat, stirring gently until the butter melts. Stir in the vanilla.
Use a whisk to mix the dry ingredients into the hot milk mixture. Increase the heat to medium high and bring to a simmer. Cook for about 6 minutes, stirring constantly. Turn off the heat, stir in the pinch or salt. Shut off the heat.
You can use this as a hot chocolate sauce or transfer to a container with a lid, refrigerate and use as needed.
To Serve:
Pipe fresh whipping cream into each one, put the top on and drizzle chocolate sauce on top.