Easy Mediterranean Salad Recipe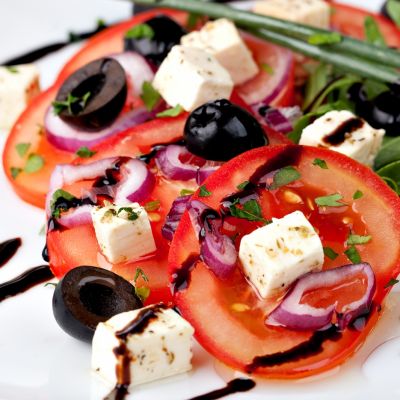 This easy Mediterranean salad recipe is a delicious starter to any meal.
Ingredients
4 large ripe tomatoes, sliced
2 cups baby spinach, washed
250 grams feta cheese, cut into cubes
3 cloves garlic, minced and crushed
3 Tablespoons fresh lemon juice
1/2 cup olive oil
2 Tablespoons balsamic vinegar
1/2 red onion, finely sliced
1/2 cup sliced black olives
1/4 cup fresh basil, chopped
Directions
Mince garlic very finely, using a garlic press if you have one.
In a small bowl mix red onion, minced garlic lemon juice and olive oil.
On your serving plates, arrange plate with spinach, tomatoes, feta, and olives.
Drizzle with olive oil mixture.
Top with final drizzle of balsamic vinegar and chopped basil.