Easy Rocky Road Fudge Recipe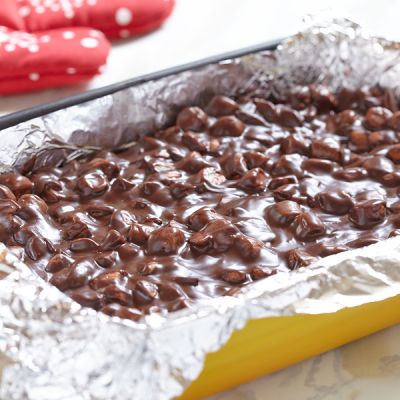 Where all of Grandmother's favorite recipes are found, just like Grandmother makes them, with a little love.
Ingredients
4 1/2 cups granulated sugar
1/2 lb. butter
12oz evaporated milk
1 Tablespoon pure vanilla extract
12oz real chococolate chips
2 cups miniature marshmallows
2 cups chopped walnuts
Directions
Line a baking pan with aluminum foil and grease the foil with butter.
In a large saucepan, combine the sugar, butter with the evaporated milk and vanilla and bring to a rolling boil. Cook on medium heat for 11 minutes. Stir constantly.
Remove from heat and stir in the chocolate chips.
Stir in to form a smooth chocolate mixture.
Add the marshmallows and nuts and stir well to combine.
Pour into the prepared pan. Let cool down to the point where you can cut into squares without it melting back together and before it becomes crumbly.
Makes 5 pounds. Store in an air-tight container.