Easy To Make Cherry Cake Recipe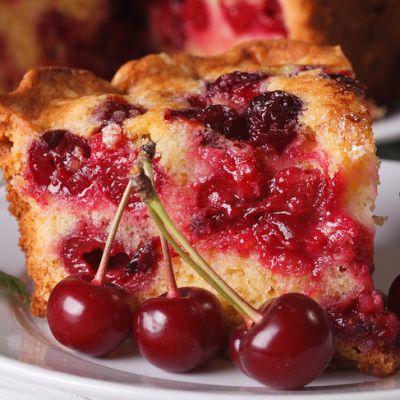 Here is an easy recipe for a cherry cake. Serve as is or with a scoop of vanilla ice cream.
Ingredients
2 cups all purpose flour
2 1/2 teaspoons baking powder
1 1/2 cups granulated sugar
1 teaspoon pure vanilla extract
4 eggs, separated
1 cup of plain yogurt
1/2 cup vegetable oil
1 15-ounce or a 350-gram can of sour cherries, drained (about 1 cup, more or less)
Directions
Preheat the oven to 400F.
Line the bottom of a 10-inch springform pan with parchment paper and lightly grease with the paper and up the sides of the pan with butter.
Stir the flour and baking powder together in a mixing bowl to combine.
Separate the eggs. Put the whites into a separate bowl for beating later.
In another mixing bowl, beat the egg yolks with an electric mixer. Add the sugar and beat in.
Add the yogurt to the eggs and sugar and beat in.
Add the oil and beat in.
Stir in the dry ingredients.
Using clean beaters, beat the egg whites until they hold peaks and stay where they are when the bowl is turned upside down.
Use a spatula to fold the beaten egg whites into the batter.
Gently fold in the drained cherries.
Transfer the batter into the prepared pan and place into the preheated oven.
Bake for 30 minutes or until a toothpick inserted in the center comes out clean.
Remove and let cool on a cooling rack. Leave the springform side on until you are ready to cut the cake.