Eclairs Recipe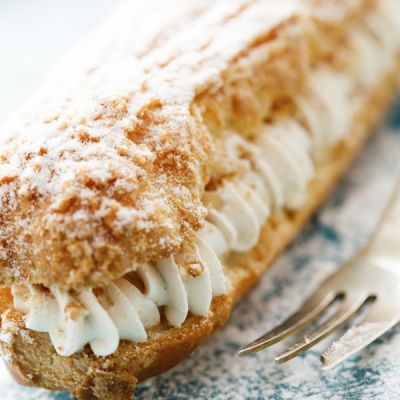 This eclair recipe is homemade and heavenly.
Ingredients
Pastry
1/2 cup butter
1 cup water
1/4 teaspoon salt
1 cup all purpose flour
4 eggs
Vanilla Pastry Cream
3/4 cup granulated sugar
1/4 cup flour
1/4 teaspoon salt
1 1/2 cups milk
6 egg yolks
1 1/2 teaspoons vanilla extract
To Serve
1 cup confectioners' sugar
Directions
Make vanilla pastry cream:.
In 2 quart saucepan, combine sugar, flour and salt; stir in milk.
Over medium heat, cook, stirring until mixture thickens and boils, about 10 minutes.
Boil 1 minute.
In a small bowl with fork, beat 6 egg yolks slightly.
Beat small amount of heated milk mixture into yolks.
Slowly pour egg mixture back into milk mixture, stirring.
Cook over medium low heat, stirring till mixture thickens and coats spoon well, about 8 minutes (do not boil).
To check thickness, lift metal spoon from mixture and hold up 15 seconds - spoon should not show through mixture.
Remove from heat; stir in vanilla.
Cover surface with plastic wrap, and chill well, about 2 hours.
When custard is cool, in a small bowl with mixer at medium speed, beat heavy/whipping cream till stiff peaks form.
With a rubber spatula, gently fold whipped cream into custard.
Preheat oven to 375 degrees F.
To make the pastry In 2 qt saucepan over medium heat, heat butter, water and salt till butter mixture boils.
Remove from heat. Cool mixture slightly.
Add flour all at once. With a wooden spoon, vigorously stir until mixture forms a ball and leaves sides of pan.
Add eggs to the flour mixture, one at a time, beating well after each addition, till smooth.
Using a large spoon and rubber spatula, drop batter onto cookie sheets int 6 log shaped mounds, 3 inches apart.
Bake 35-40 minutes or until puffed, browned and dry.
Remove from oven, cut a small slit in the side of each puff and return to the oven and bake for 10 minutes.
Allow to cool.
When puffs are cool, slice top off of each.
Fill each shell with the chilled pastry cream.
Replace top and sprinkle with powdered sugar.
Dust tops with confectioners' sugar.