Egg Rolls Recipe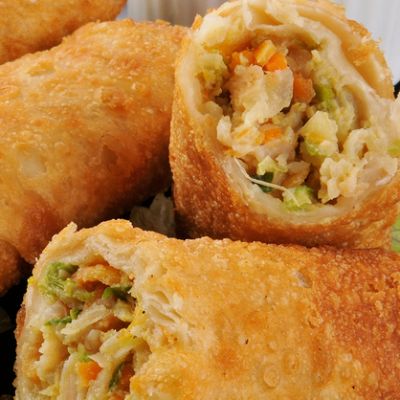 Ever wonder how to make egg rolls? This recipe can be made with or without the pork if you are vegetarian. If you want it without meat, then just add another cup of grated vegetables.
Ingredients
2 Tablespoons olive oil
3 garlic cloves, minced
1 inch piece of ginger, grated
1/2 medium onion, minced
1/2 pound ground lean pork
2 green onions, finely chopped
5 cups cabbage coleslaw blend
2 carrots, grated
1 Tablespoon soy sauce
salt
Fresh ground black pepper
15 egg roll wraps
water
4 cups vegetable oil, for deep-frying
1 cup plum sauce, for dipping (optional)
(Serves 6)
Directions
In a large skillet set over medium-high heat, heat olive oil.
Add garlic, ginger and onions and sautÚ until tender. About 5 minutes.
Add ground pork. SautÚ together with the onions and garlic until browned.
Increase the heat to high.
Add the coleslaw blend and carrots. SautÚ on high heat until just tender, about 5 minutes.
Remove from heat and add the soy sauce, salt and pepper. Taste and adjust seasoning, if necessary. Set aside.
To assemble the rolls,
Pour some water into a small bowl.
Working with clean hands, lay out an egg roll wrap with a corner pointing towards you.
Scoop 2 tablespoons of filling into the centre of the wrapper.
Dip fingers into the bowl of water and wet the edges of the wrapper.
Fold the bottom of the wrapper up and over the filling. Fold in the sides. Press gently to seal.
Gently roll the egg roll upwards, tightly containing the filling inside. Press to seal the edges.
Set the roll aside and continue with the remaining wrappers and filling.
To cook,
Pour the oil into a large sturdy saucepan and set over medium-high heat. Heat oil to 350║F.
Once oil is heated, carefully drop 2-3 rolls, depending on the size of your saucepan, into the hot oil and cook until golden brown, flipping half way through. About 2 minutes per side.
Transfer cooked rolls to a paper towel lined plate to drain.
Continue cooking remaining rolls in batches.
Serve hot with plum sauce on the side for dipping, if desired.