Egg Salad Croissant Recipe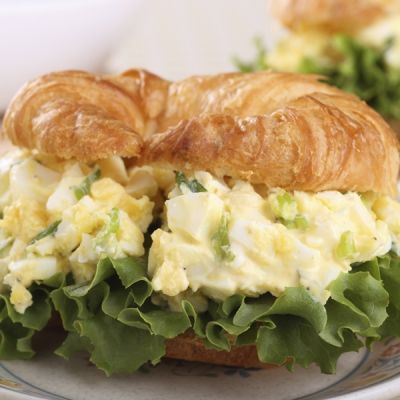 A tasty recipe for egg salad croissant sandwiches. This is a great lunch anyone will enjoy.
Ingredients
6 eggs
3 tablespoons mayonnaise
1 Tablespoon mustard
2 Tablespoon
2 green onions, finely chopped
salt and pepper to taste
4 leafs lettuce, cut to croissant size
4 croissants
Directions
To hard boil eggs – Gently place eggs into a sauce pan. Add just enough water to cover the eggs completely.
Put on high heat and bring the water to a boil.Just as the water reaches a rapid boil remove from heat and cover with a lid.
Let the pan site for 15 minutes. Transfer eggs into a bowl with cold water. Allow to sit for at least 10 minutesbefore peeling.
Peel eggs and finely chop them . Place chopped eggs in a medium bowl.
Mix in mayo, 1 tablespoon at a time. Mix in mustard, green onions and pepper.
Put egg salad onto sliced croissants, with lettuce.