Egg White Salad Sandwich Recipe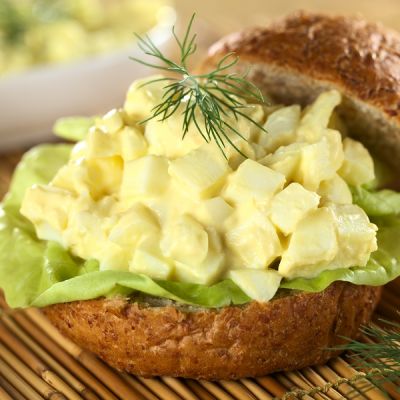 This egg white salad sandwich is just a little bit different way of preparing the egg salad. The yolks are part of the creamy dressing. Another option for those that do not eat yolks, would be to just do the sauce without the yolks and it will still be creamy and delicious.
Ingredients
4 eggs
1/4 cup mayonnaise
1/2 teaspoon Dijon mustard
2 teaspoons sweet pickle relish
salt and fresh ground pepper
4 whole wheat buns
4 leaves butter lettuce, washed
(Serves 4)
Directions
Carefully place eggs in a large saucepan. Fill with enough water to cover by 2 inches.
Put saucepan over high heat and bring to a boil.
Once boiling, allow eggs to cook for 2 minutes.
Remove eggs from heat and allow them to sit for 5 minutes in the hot water.
Drain and plunge into cold water. Let the eggs sit for 10 minutes in the cold water, to cool.
Once the eggs are cool enough to handle, peel eggs and let them cool to room temperature.
Cut the eggs in half and remove the yolks. Cut the egg whites into small chunks and set aside.
In a small bowl, mash the egg yolks.
Add the mayonnaise, dijon mustard, relish, salt, and fresh ground pepper. Mix until well combined.
Add the egg whites and gently mix until well combined. Taste and adjust seasoning, if necessary.
Cut the buns in half.
Place a piece of lettuce on the bottom half of each bun.
Divide the egg salad between the 4 buns, on top of the lettuce.
If desired, top with fresh dill.
Top with the other half of the bun.