Exquisite White Chocolate Cream Filled Pastries Recipe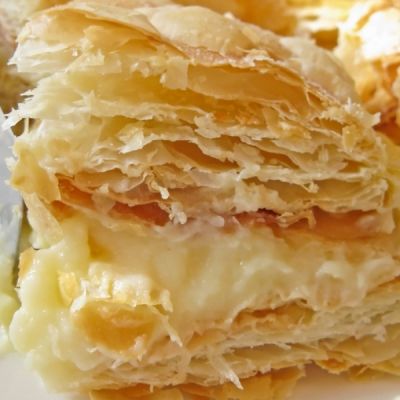 For that special treat, try this recipe for Exquisite White Chocolate Cream Filled Pastries
Ingredients
1 package (397 grams) frozen puff pastry
170 grams white chocolate, chopped into small similar sized pieces
1 1/4 cup 35% cream
1/4 teaspoon vanilla extract
Directions
Defrost pastry according to package directions.
Preheat the oven to 400 degrees F.
Roll out half of the pastry on a lightly floured surface to a 1" thick rectangle 4 1/2" x 8".
Cut the pastry into 4 strips 2" wide.
Repeat with remaining half of pastry.
Place the pastry strips on a baking sheet lined with parchment paper and bake for 20 minutes or until puffed and golden; cool on a wire rack then slice in half lengthwise.
Place the white chocolate and 1/2 cup cream in a small saucepan over low heat, stirring until the chocolate is melted and blended with the cream. Stir in vanilla.
Transfer the mixture to a medium bowl and refrigerate 30 to 40 minutes until it is cool but not set, stirring occasionally.
With an electric mixer, whip remaining 3/4 cup cream until stiff peaks form then beat white chocolate mixture until thick and fluffy. Fold in whipped cream.
Spread a layer of the mixture on half of the pastry strips. Top with remaining strips.
A delicate, delicious dessert.