Fantastic French Fries Recipe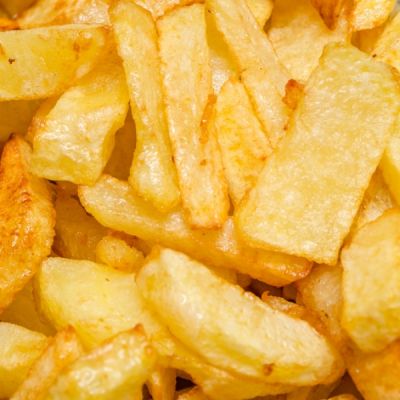 An Easy and very tasty recipe for oven baked crispy french fries. Serve with your favorite dipping sauce.
Ingredients
4 potatoes, cut into thick fries
1 Tablespoon white sugar
1/4 cup olive oil
1 teaspoon garlic powder
1 teaspoon salt, more to taste
Directions
Preheat oven to 425 degrees F.
Line a baking sheet with parchment paper and grease with a little olive oil.
Place sliced potatoes in a colander, sprinkle sugar over potatoes. Set aside until liquid is released from potatoes, 20 to 30 minutes. Drain liquid and dry potatoes well.
Mix potato slices, olive oil, garlic powder,and salt until evenly coated. Spread potato slices in a single layer, on the prepared baking sheet.
Bake in the preheated oven for 20 minutes; flip fries and cook about 20 more minutes or until crispy and golden.