Festive Christmas Tree Cake Recipe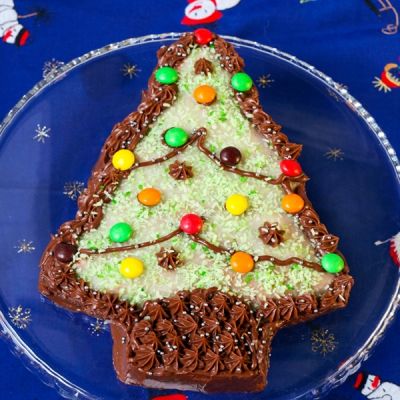 A delicious recipe for chocolate Christmas tree cake. With chocolate and vanilla frosting and festive decorations.
Ingredients
Cake
1 cups butter, at room temperature
2 1/4 cups granulated sugar
2 eggs
2 teaspoons vanilla
3 cups all purpose flour
3/4 cup cocoa powder
1 1/2 teaspoons baking powder
1 1/2 teaspoons baking soda
1/2 teaspoons salt
2 1/4 cups buttermilk
Chocolate frosting
1 cup butter, at room temperature
1/2 cup cocoa powder, sifted
5 cups confectioners sugar
1 teaspoon vanilla
3-4 tablespoons milk
White frosting
2 cups confectioners sugar
1/2 cup shortening
1 tablespoons water
1/2 teaspoon clear vanilla extract
Decoration
1/2 cup candies
1/4 cup coconut
Directions
Preheat oven to 350 degrees F. Grease a Christmas tree shaped baking tin or mold.
In large bowl, beat butter with sugar until light. Beat in eggs and vanilla.
In separate bowl, sift together flour, cocoa powder, baking powder, baking soda and salt. Stir into butter mixture alternately with buttermilk.
Scrape into prepared pan, smooth top.
Bake 50 minutes or until cake tester inserted in centre comes out clean.
Let cool in pan on rack for 10 minutes. Turn out onto rack, let cool completely.
For the frosting. cream together butter and cocoa together until smooth. Stir in vanilla and confectioners sugar. Slowly pour in milk until frosting reaches desired consistency. Whip again until light, fluffy.
For the white frosting. In a large bowl, combine sugar, shortening, water and vanilla. Beat on low speed to combine, then beat on medium speed for a full five minutes.
When cake is cooled, pipe frosting onto cake and decorate with candies and coconut for a very festive cake.