Fiesta Chicken Pizza With Homemade Pizza Dough Recipe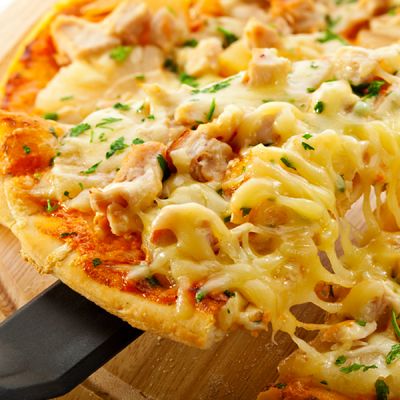 A delicious pizza recipe along with instructions on how to make your own pizza dough.
Ingredients
3/4 cup salsa (your desired heat)
1/2 c chopped sweet onion onion
3 cups yellow peppers
3 cups (8 oz.) pepper jack cheese, shredded
Chopped cilantro
3 cups cooked and shredded chicken
2 pizza crusts (or make your own dough with recipe below)
Homemade Pizza Dough
*Makes 2 - 12 inch pizza.
1 tsp sugar
1/2 cup lukewarm water
1 envelope active dry yeast
1/4 cup vegetable oil
1/2 cup lukewarm water
1 tsp salt
1 1/2 cup all purpose flour - divided into 2 equal parts
Directions
If you are using store bought pizza dough, you can skip to step 16. Otherwise....
Dissolve sugar in 1/2 cup warm water.
Sprinkle yeast on top and let stand for 10 minute.
Then stir quickly with a fork.
In a large bowl combine softened yeast with oil, lukewarm water, salt and 1 1/4 cups flour.
Beat vigorously by hand or with mixer.
Then gradually beat in the other 1 1/4 cups flour.
Work in last of flour with a rotating motion of the hand.
Turn dough onto a floured surface and knead for 8-10 minutes.
Shape into a smooth ball and place in a greased bowl, rotating dough to grease surface.
Cover with a damp cloth and let rise until doubled (about 3/4 hour).
Keep in a warm place.
Punch dough and divide in half.
Form each half into a ball and place on greased baking sheets.
Press out with palms of hands into circles about 12 inches in diameter, making edges slightly thicker.
On each circle of dough arrange your toppings, adding the salsa first, and the cheese last.
Bake in preheated 400F oven for 25-30 minute or until pastry is golden brown.