Fish Cake Recipe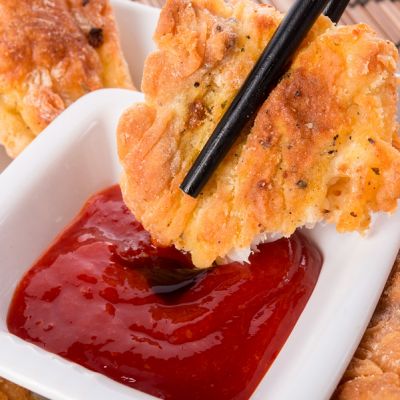 This fish cake recipe is a great way to use up leftover fish and mashed potatoes.
Ingredients
2 cups cooked fish, flaked
1 cup cold mashed potatoes
1/4 cup minced onion
2 teaspoons lemon juice
2 eggs, beaten
1/2 teaspoon salt
1/2 teaspoon pepper
1/2 cup all purpose flour
2 Tablespoons Olive Oil
Dipping Sauce Ideas
honey mustard, ketchup, seafood cocktail sauce, chili sauce
Directions
If you have a little fish and mashed potatoes left over, this is a super way to use up the leftovers.
In a mixing bowl, combine the flaked fish, mashed potatoes, minced onion,lemon juice, beaten eggs, salt and pepper. Use clean hands to form the mixture into 8 patties.
Put the flour into a shallow dish.
Dredge the patties in the flour.
Put the oil into a large skillet and warm the pan over medium heat. Place the fish cakes into the pan.
Fry cakes for about 10 minutes, turning once, or until golden brown.
If it feels like the pan needs a little more oil, then go ahead and add another tablespoon when you flip the cakes.
Serve with dipping sauce of your choice.