Focaccia With Asparagus Tips And Prosciutto Recipe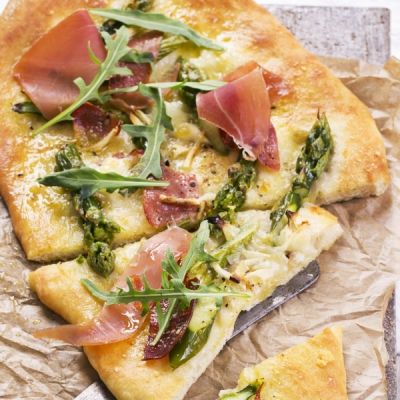 A recipe for Focaccia With Asparagus Tips and Prosciutto that is simple to prepare.
Ingredients
1 1/2 tsp dried yeast
1/2 tsp sugar
1 1/2 cups lukewarm water
3 1/2 cups all purpose white flour
1 1/2 tsp salt
1 large egg
3 Tablespoons olive oil
1/4 cup grated Parmesan cheese
asparagus tips - about 20 pieces
prosciutto about 8 thin slices torn into pieces - more or less to taste
arugula - a handful of fresh
Directions
Sprinkle yeast and sugar into warm water in a small bowl and mix.
Allow to sit for 10 minutes until mixture begins to bubble.
Combine flour and salt in large bowl, make a well in the centre, pour in yeast mixture and beaten egg and gradually work in the flour to make a dough.
Turn out onto lightly floured surface and knead thoroughly until smooth and elastic - at least 5 minutes.
Use only enough flour to prevent the dough from sticking to the surface.
Place in lightly oiled bowl, turn dough to coat with 2 tbsp oil and cover with a clean cloth.
Allow to rise for 45 minutes, or until doubled in volume.
Prepare a 15"x 10" baking sheet by oiling and putting parchment paper. Stretch using your fingertips to fill the pan. Using a dull knife, cut the dough into quarters. Work the edges a little with your fingertips to form 4 nice looking pieces. Cover loosely and allow to rise for about 30 minutes.
Preheat the oven to 350 degrees F.
Use your fingertips to dimple the dough every 2" or so and then brush with remaining oil.
Top with asparagus tips and torn pieces of Prosciutto, sprinkle with salt and Parmesan cheese and bake about 20 minutes, until the asparagus is tender and the focaccia is browned with the crust slightly crispy.