Four Layer Classic White Cake With Honey Buttercream Frosting Recipe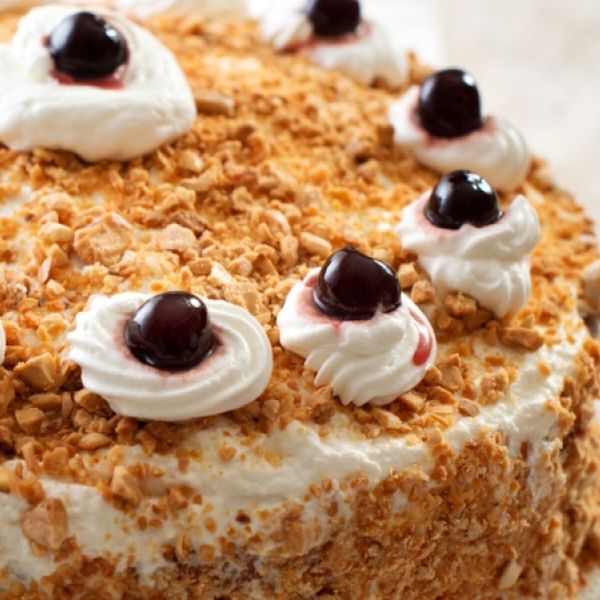 Here is a recipe for a Classic White Cake with a Honey Buttercream Frosting using flour that is worthy of a try.
Ingredients
Makes four 6-inch cakes
Cake
2 cups plus 4 tablespoons cake flour
3 teaspoons baking powder
1/2 teaspoons salt
1/2 cup butter, room temperature
1 1/2 cups granulated sugar
4 egg whites, room temperature
1 1/2 teaspoons pure vanilla extract
1 cup milk
Honey Buttercream Frosting
1 1/2 cups sugar
1/3 cup all-purpose flour
1 1/2 cups whole milk
1/3 cup heavy cream
3 sticks unsalted butter, softened, and cut into small pieces
1 teaspoon pure vanilla extract
3 Tablespoons honey
*Optional 1 cup ground chopped nuts of your choice
*Optional canned pitted cherries for garnish
Directions
Cake
Preheat oven to 350 degrees F.
Grease four 6-inch round cake pans and line with parchment paper.
In a small bowl, whisk together the flour, baking powder and salt. Set aside.
In the bowl of your stand mixer fitted with the paddle attachment or with a hand-held mixer, cream together the butter and sugar until light and fluffy (3-5 minutes).
Add the egg whites, one at a time, mixing well and scraping down the bowl after each addition. Mix in pure vanilla extract.
Add the flour mixture in thirds, alternating with the milk, mixing well and scraping down the sides and bottom of the bowl after each addition. (The addition of the flour mixture and milk will go as follows: 1/3 of the flour mixture followed by 1/2 of the milk, another 1/3 flour mixture followed by the remaining milk, and then the final 1/3 of the flour mixture.)
Divide the batter evenly between the four prepared pans, and rap on the counter to eliminate air bubbles.
Bake for 18-22 minutes or until a cake tester inserted in the center of the cake comes out clean. Cool for 10 minutes on wire rack before removing cakes from pans to cool completely.
Honey Buttercream Frosting
In a heavy, medium saucepan, whisk sugar and flour until well blended.
Add milk and cream and cook over medium heat until mixture thickens and comes to a boil, about 10 minutes. You must watch this the entire time, stirring so you do not scorch the milk. Reduce heat to low and cook, stirring, for 2 more minutes.
Transfer the mixture to the bowl of a stand mixer. With the paddle attachment, beat the mixture on high speed until it cools completely, about 10 minutes.
On medium speed, beat in the butter. Itíll gradually start incorporating into the mix and look more and more like frosting; it takes about 5 minutes.
Increase the speed to medium-high until the frosting is fluffy and smooth, about 1 minute. Beat in honey and vanilla until incorporated. Taste for the honey and add more if necessary.
Makes enough frosting to frost the entire 6 inch 4 layer cake. Use about 1/2 to 3/4 cup of frosting in between layers. Put some of the frosting into a piping bag if you wish to garnish the cake as shown. Apply crushed nuts and cherries if desired.