French Apple Tart Recipe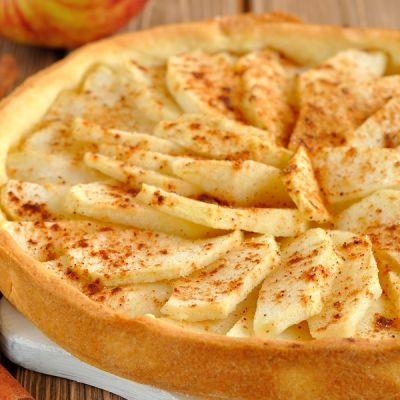 This French apple tart is just a slight variation of an apple pie.
Ingredients
Crust
1 1/2 cups all purpose flour
1/4 cup granulated sugar
1/8 teaspoon salt
1/2 cup butter, at room temperature
1 egg, lightly beaten
Filling
4-6 medium baking apples (yellow delicious or granny smith are good)
3 Tablespoons butter
1/2 cup granulated sugar
1-2 teaspoons cinnamon
Directions
CRUST
Line an 8 or 9 inch springform pan with parchment paper and grease bottom and sides with butter.
Place the butter in a mixing bowl and use an electric mixer to beat until softened.
Add the sugar and beat until light and fluffy.
Add in the beaten egg.
Don't over mix,just mix to combine it all.
Add the flour mixture all at once and mix just until it forms a ball. Do not overwork.
Roll out the pastry and fit it into the sprngform pan so it goes up the sides a little.
Filling
Peel, core, and cut the apples into thin slices about 1/4 inch thick.
Melt butter in small saucepan over low heat and stir in sugar. Just heat until sugar has dissolved in then shut off.
Arrange the apple slices in concentric circles into the crust, and use a silicone pastry brush to paint the melted butter sugar mixture onto each layer of apples.
Sprinkle the cinnamon on top.
Preheat the oven to 350 degrees F.
Bake for 30-35 minutes.
Remove and place on cooling racks. Let cool for at least an hour before cutting.
Serve with ice cream or whipping cream.