Fresh Banana Chocolate Cake Recipe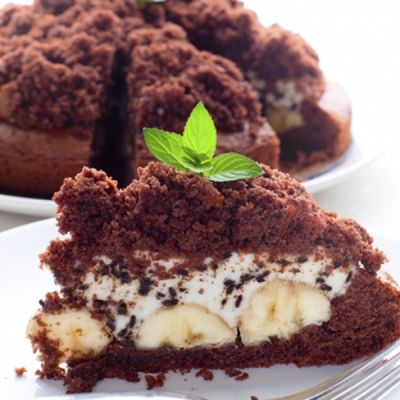 A very yummy recipe for fresh banana chocolate cake. This dessert is a alternative to a basic layered cake.
Ingredients
Makes (1) 8 inch round cake
Cake
1 1/4 cups all purpose flour
1/2 cup cocoa powder
1 teaspoon baking soda
1/2 teaspoon salt
1 cup granulated sugar
1/2 cup butter, at room temperature
1 egg
1 teaspoon pure vanilla extract
1 cup cold, strong, brewed coffee
Filling
1/2 cup heavy cream
2 teaspoons granulated sugar
2 Tablespoons chocolate sprinkles
1-2 fresh bananas, sliced
Directions
Cake
Preheat oven to 3500F.
Grease and flour an 8 inch round cake pan.
Into a medium sized bowl, Sift together flour, cocoa, baking soda and salt.
In a mixing bowl, use an electric mixer to cream the butter and
sugar until light and fluffy.
Add egg and vanilla and beat well.
Add in the flour mixture, alternating with coffee. Beat until just combined.
Transfer the batter to the baking pan.
Place into the preheated oven and bake for 35 to 40 minutes,
or until a toothpick inserted into center of the cake comes out clean.Remove and place the cake onto a wire rack.
Once cool, carefully scoop out center of cake.
Crumble the scooped out portion into a small bowl.
Crumble
Using an electric mixer, beat heavy cream with sugar until stiff peaks form.
Assembly
Place the cake on a serving plate, place a layer of banana slices then the whipped cream and sprinkles.
Finish by topping the whipped cream with cake crumbles.