Fresh Blueberry Pancakes Recipe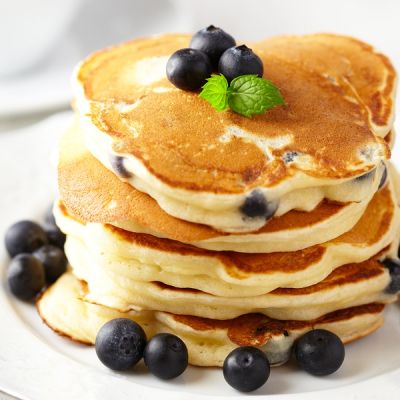 This fresh blueberry pancake recipe is from very simple ingredients, takes no time to make and are extra yummy with blueberries inside.
Ingredients
2 cups buttermilk
2 cups all purpose flour
2 Tablespoons granulated sugar
2 teaspoons baking powder
1/2 teaspoon baking soda
1 large egg
3 Tablespoons unsalted butter, melted and cooled slightly
2 Tablespoons butter, for frying pan
1 cup fresh blueberries, rinsed and dried
Directions
In a medium bowl, combine flour, sugar, baking powder, baking soda, and salt.
In a separate bowl, whisk together the egg, milk and melted butter.
Pour the wet ingredients into the centre of the dry ingredients and fold together very gently until just combined. Be careful not to over mix.
Warm a nonstick skillet over medium heat for 3 to 5 minutes.
Once the pan is hot, add 1 teaspoon butter and spread around to coat skillet bottom evenly.
Scoop approximately 1/4 cup of batter onto the skillet.
Sprinkle over 1 tablespoon blueberries onto pancake.
Allow the pancake to cook for 1 1/2 to 2 minutes, until large bubbles begin to form.
Flip the pancake and then cook the other side until golden brown, about 1 to 2 minutes more.
Repeat with the remaining badder, serving the pancakes immediately as them come hot off the grill.
Serve with 100% pure maple syrup.