Fresh Summer Blueberry Muffins Recipe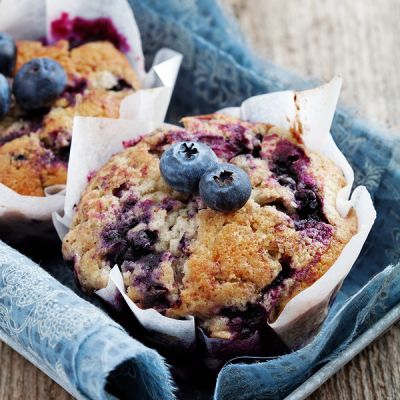 There is nothing quite so wonderful as freshly baked blueberry muffins. Great for breakfast or for a snack.
Ingredients
2 cups all purpose flour, spooned into measuring cup and leveled-off
2 teaspoons baking powder
3/4 teaspoon salt
1 stick (1/2 cup) butter, at room temperature
1 cup granulated sugar
2 large eggs
1 1/2 teaspoons pure vanilla extract
1/4 teaspoon almond extract
1/2 cup milk
2-1/4 cups fresh blueberries
Directions
Preheat oven to 375F.
Line a 12 cup muffin tin with parchment paper pieces or paper cupcake liners.
In a mixing bowl stir together the flour, baking powder and salt.
In another mixing bowl,beat the butter until creamy. Add the sugar and beat 2 minutes.
Add the eggs one at a time a beat in to combine well.
Add the vanilla and almond extracts and beat in.
Add the flour mixture a little at a time beating on low speed until all flour is combined.
Using a wooden spoon or spatula, gently mix in the fresh blueberries.
Divide and fill the muffin tins. They will be full.
Place into the preheated oven and bake for 30 minutes and golden brown on the top.
Place a toothpick in the center of one of the muffins. If it comes out clean they are done.
Remove and let sit on a cooling rack for 10 minutes, then lift the muffins directly out onto the rack.
Delicious served warm!