Fried Mashed Potato Balls Recipe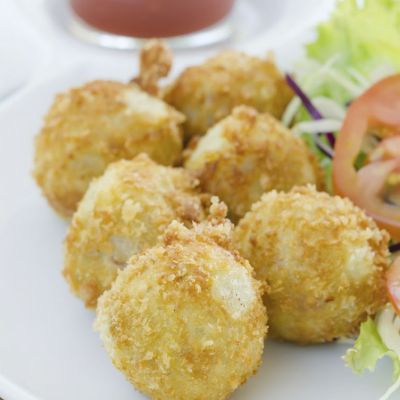 These fried mashed potato balls are a recipe worth trying. The kids and adults will love them.
Ingredients
3 cups cold mashed potatoes
1 clove garlic, minced
1 cup cheddar cheese, grated
1 egg, beaten
2 cups crushed corn flakes
1 cup vegetable oil, for frying
Serves 3-4
Directions
Place the mashed potatoes into a large mixing bowl.
Add minced garlic and cheese to potatoes, mix in well.
Roll the potato mixture into balls about 2 inches around.
Beat an egg in a small bowl.
Place the crushed corn flakes into another bowl.
Dip the potato balls into the egg then roll in the crushed cornflakes to coat.
Heat about one inch of oil in a heavy bottom
deep sided skillet to 350°F.
Test the heat with a thermometer.
Gently place the potato balls into the hot oil.
Carefully turn to fry each side until browned.
Remove with a slotted spoon or tongs to a plate lined with paper towels.
Serve hot with your favorite dipping sauce.