Fried Spring Rolls Recipe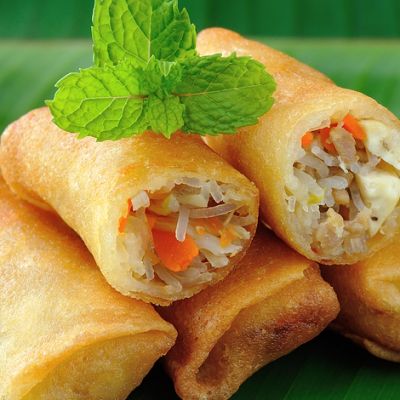 This fried spring roll recipe has some ground chicken along with veggies and rice vermicelli. There is also a great dipping sauce recipe that you and make to go along with these crispy spring rolls.
Ingredients
1 (4 ounce) packages rice vermicelli
1 lb ground chicken
1 egg
1 small onion, minced
2 cloves garlic, mashed
salt
white pepper
1/4 cup finely grated carrot
1/4 cup finely grated cabbage (optional)
1/2 cup bean sprouts
20 spring roll wrappers (frozen are easy to work with)
oil ( for frying)
(Makes 20)
Dipping Sauce
3 Tablespoons lime juice
2 Tablespoons granulated sugar
1/2 cup water
2 1/2 Tablespoons fish sauce
*Optional additions
1 small minced garlic clove
1 Tablespoon sweet chili sauce
(Makes 3/4 cup)
Directions
Have ready a deep sided frying pot with 2 inches of oil in the bottom for frying.
Soak the rice vermicelli in cold water for 15 minutes, then drain and chop.
In a large mixing bowl place the ground chicken, add the egg, minced onion, garlic, salt and white pepper and stir well to combine.
Toss in the chopped rice vermicelli, carrots, cabbage and sprouts and stir together.
Have ready a clean damp tea towel.
Place a spring roll wrap onto the towel and fill with 2 tablespoons of the mixture. Make a sausage like shape out of the mixture at one end of the wrap.
Fold sides in, then begin rolling the spring roll at the mixture side.
Seal the roll by moistening edge with water.
Place the ready roll onto another clean damp tea towel so it will not stick while you are preparing the rest of the rolls. Repeat the process until done.
Heat the oil over medium-high heat. Peanut oil is a very good oil to fry food in as it has a high heat level and does not flavor the food.
Fry the rolls, turning frequently until cooked through and golden, about 5-7 minutes.
Place onto a plate lined with paper towels to drain and place onto a baking sheet lined with parchment paper if you plan to place them into the oven to keep them warm.
Keep warm in heated oven.
Serve with dipping sauce.
If there are leftovers, they can always be frozen and reheated in the oven.
Dipping Sauce
In a small bowl, stir together the lime juice, sugar and water, and stir until the sugar has dissolved. Do a taste test and adjust more lime or sugar to suit your taste.
Stir in the fish sauce and any of the optional ingredients, taste again and adjust to your liking.
Put into a bowl and serve with the spring rolls.