Fruit Pops Recipe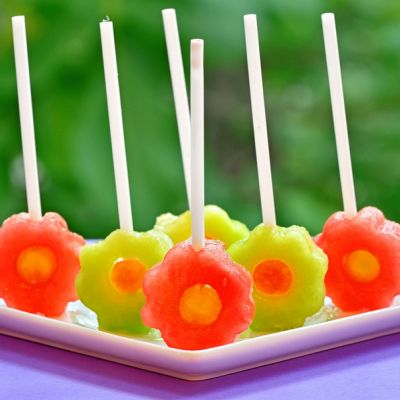 These fruit pops are an easy and delicious summer treat, that make a simple fruit festive and fun. These pops are just made from melons!
Ingredients
1 small watermelon, washed
1 cantaloupe, washed
1 honeydew melon, washed
12-8″ lollipop sticks
(makes 12 fruit pops)
Directions
Slice the melons in half and de-seed.
Cut a few 1/2-inch thick slices from each of the different melons.
Using a small flower shaped cookie cutter, cut 4 flower shapes out of each of the different melon slices.
Using a smaller, circular shaped cookie cutter, cut a circular centre into each flower.
Pop the centres out of the flowers and replace them with a different coloured centre from a different melon flower.
Using a wooden skewer, careful poke a hole into each melon flower.
Remove the skewer and carefully insert a lollipop stick into the melon shapes, being sure to poke it all the way into the centre circle.
Set aside and continue with the remaining melon flower pieces.
Serve immediately.