Fruit Topped Tapioca Pudding Recipe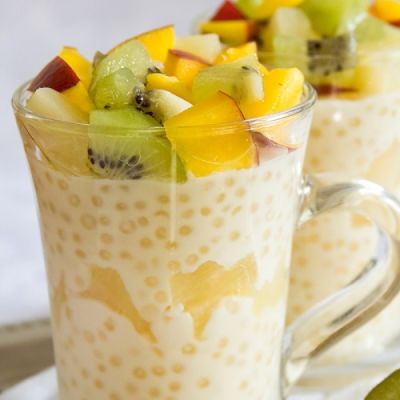 A Very yummy recipe for fruit salad tapioca pudding.
Ingredients
1/2 cup small pearl tapioca
3 cups whole milk
1/4 teaspoon salt
2 eggs
1/2 cup of sugar
1/2 teaspoon of vanilla
To Serve
2 cups cut fruit, (kiwi, nectarine, pinapple)
Directions
In a medium sauce pot, Combine tapioca, milk, and salt on medium high heat. Stir until it comes to a boil, let Simmer 5 minutes, uncovered on low heat, gradually stir in sugar.
In a separate bowl beat eggs then slowly mix in 1/2 cup of the hot tapioca.
Add eggs to pot with tapioca. Slowly bring to a boil, stirring constantly.
Reduce heat and stir several minutes at a low simmer, until pudding is a thick consistency. Stir in vanilla then let cool.
Serve warm or chilled, topped with 1/2 cup fruit.
Serves 4-6.