Fudge Layer Cake Recipe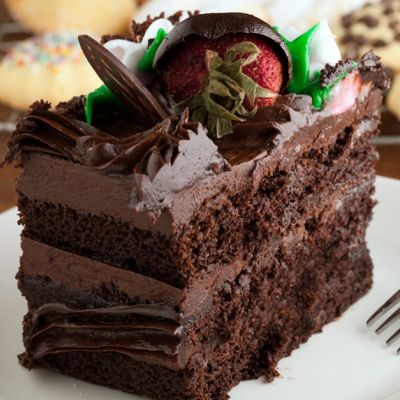 This fudge layer cake recipe is so rich and moist. Chocolate, chocolate, chocolate. Mmmmm, so yummy.
Ingredients
Cake
2/3 cups all-purpose flour
3/4 cup granulated sugar
1/3 cup light brown sugar
1/4 cup best-quality cocoa powder
2 teaspoons baking powder
1 teaspoon baking soda
1/2 teaspoon salt
3 eggs
1/2 cup sour cream
1 Tablespoon pure vanilla extract
3/4 cup butter, melted
1/2 cup grape seed oil
1 1/3 cups water
Filling
2/3 cup butter
1 1/3 cup cocoa
6 cups confectioners' sugar
2/3 cup milk
2 teaspoons vanilla extract
Serves 6 - 8
Directions
Cake
Preheat oven to 350 degrees F.
Grease and flour 2 - 8 inch square cake pans with butter.
Whisk together flour, both sugars, cocoa powder, baking powder, baking soda and salt. Set aside.
In a separate bowl Whisk together eggs, sour cream, vanilla, melted butter, oil and water. Add to dry ingredients and mix until well incorporated.
Pour batter into prepared cake pans and bake for 45 to 50 minutes, or until an inserted toothpick comes out clean. Set to cool, once cool enough to touch turn cakes out of pan and let cool completely on a wire rack.
Filling
In a small pot melt butter on medium high heat. Add cocoa powder and continuing heat until it boils, whisking until smooth the whole time.
Beat together cocoa mixture, sugar and milk until its consistency is spreadable, about 5 minutes. Mix in vanilla.
Assembly
Ice in between layer of cake and on top. Pipe designs on sides and on top. Garnish with chocolate dipped strawberries, and with some decorators icing.