Fudge Truffle Cheesecake Recipe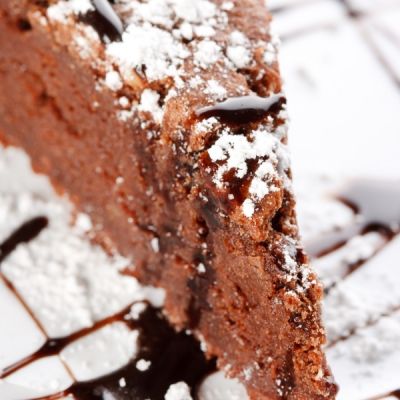 Yummy ... A Fudge Truffle Cheesecake recipe with a chocolate drizzle on the top.
Ingredients
Chocolate Crumb Crust
1 1/2 cups vanilla wafer crumbs
1/2 cup confectioners sugar
1/3 cup Hershey?s cocoa powder
1/3 cup melted butter
Filling
1 (12 ounce) package chocolate chips
24 ounces cream cheese, softened
1 (14 ounce) can sweetened condensed milk
4 eggs
2 teaspoons vanilla extract
Chocolate Drizzle
1/2 cup chocolate chips
Garnish
powdered sugar
Directions
Chocolate Crumb Crust
In a medium bowl, combine vanilla wafer crumbs, confectioners sugar, cocoa powder and melted butter or margarine.
Press firmly onto the bottom of a 9-inch deep-dish pie pan or a 9-inch springform pan. Set aside.
Filling
Preheat oven to 300 degrees F.
In a heavy saucepan, over very low heat, melt chips, stirring constantly.
In a large mixer bowl, beat cream cheese until fluffy. Gradually beat in sweetened condensed milk until smooth. Add melted chips and remaining ingredients; mix well.
Pour into prepared crumb crust pan. Bake 1 hour and 5 minutes or until center is set.
Cool and chill.
Chocolate Drizzle
Put the chocolate chips in the top of a double boiler over medium heat and melt, or melt in the microwave at 30 second intervals, stirring in between.
Scrape melted chocolate into a plastic baggie and snip a tiny piece off the corner.
Slice and drizzle the melted chocolate over the truffle cheesecake.
Sprinkle powdered sugar.