Garlic Butter Parmesan Potatoes Recipe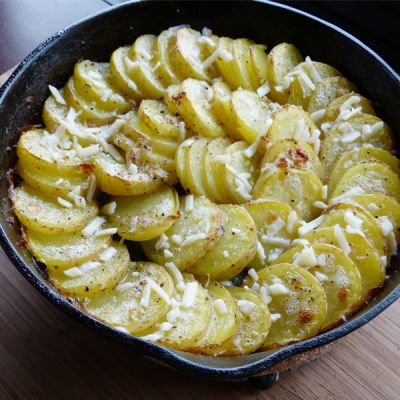 These Garlic Butter Parmesan Potatoes are fantastic! Potatoes are first parboiled, then placed into the oven slathered with fresh garlic butter and baked until crisp.
Ingredients
8-12 medium small young yellow potatoes
4 Tablespoons butter
2 garlic cloves minced
salt and freshly ground pepper, to season
1/4 cup freshly grated Parmesan cheese
Directions
Preheat oven to 425F.
Wash the potatoes then place into a large saucepan. Put enough water to just cover the potatoes.
Bring the water to a boil and cook for 7-9 minutes. It will depend on the size of the potatoes.
You just want to par-boil so they are still firm. You do not want them mushy. To test spear with a sharp knife. They are ready when the knife will penetrate but the potato is still firm.
Drain the water and run cold water into the pot to stop them from cooking. Keep running the cold water so you cool the potatoes down for handling.
Meanwhile, melt the butter in a small saucepan, mince the garlic and stir the minced garlic into the melted butter. Shut off and set aside.
Grease you cast iron pan with the melted butter using a silicone pastry brush. This dish was done in a 9-inch pan, but you can use whatever size you have, just be sure if you do a larger pan you increase the amount of potatoes, butter and garlic.
Using a large sharp knife, slice the potatoes into rounds about 1/4 inch wide and place them into the cast iron pan forming a circular pattern.
Use the silicone brush to paint on the butter and minced garlic to the rounds.
Season with a sprinkle of salt and freshly ground pepper.
Place into the preheated oven and bake for 15 minutes.
Turn the oven to BROIL and keeping an eye, bake for another 5-8 minutes or until the potatoes turn a golden brown.
Remove from the oven and sprinkle the parmesan cheese on top.
Serve nice and hot!