Garlic Mushroom Tapas Recipe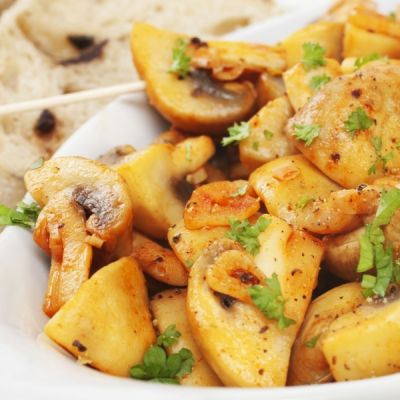 A Tasty recipe for garlic mushroom tapas, Serve with crusty bread to mop up the juices.
Ingredients
250g button mushrooms, quartered
4 tbsp extra virgin olive oil
4-5 garlic cloves, peeled and sliced thin
1/2 tsp chilli flakes (optional)
4 tbsp dry white wine or 1 tbsp lemon juice
2 tbsp parsley, chopped
salt and pepper
Directions
Heat the olive oil in a large frying pan and sauté the mushrooms with the garlic and chilli over a medium-high heat.
Add salt and pepper as the mushrooms are cooking.
Add the white wine or lemon juice, lower the heat and simmer, uncovered, 15 minutes until the mushrooms are soft.
Stir in the parsley.