Garlic Mustard Beef Skewers Recipe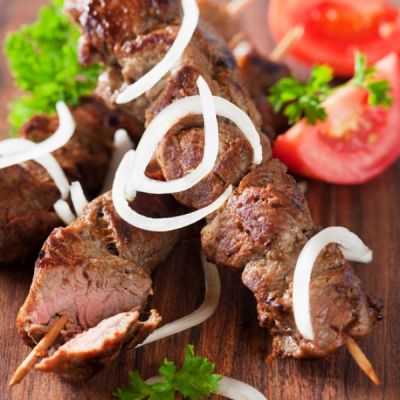 A delicious beef recipe for the grill.
Ingredients
2 lbs. of beef tenderloin, cut into 1 inch cubes
6-inch wooden skewers, soaked in cold water for 30 minutes
Glaze:
3 cloves garlic, finely chopped
1/4 cup grainy mustard
2 tablespoon Dijon mustard
2 teaspoons paprika
1/4 teaspoon salt
1/4 teaspoon freshly ground black pepper
1 tablespoon soy sauce
2 tablespoons vinegar
1 tablespoon honey
Directions
Heat the BBQ to high heat.
Poke beef cubes onto your soaked skewers.
Brush the meat liberally on both sides with glaze.
Grill the meat for 2 to 3 minutes per side until golden brown and cooked to medium-rare doneness, brushing with the remaining glaze while grilling.
Remove from grill and serve.