Garlic Potato Wedges Recipe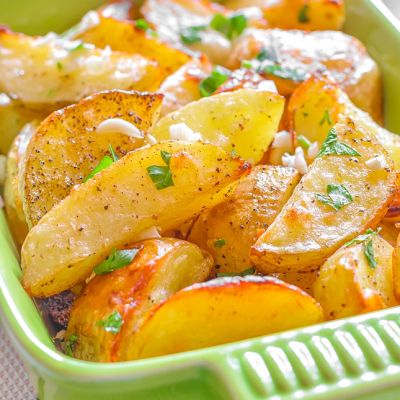 This garlic potato wedges recipe is a very tasty way to prepare potatoes.
Ingredients
3 large russet potatoes, scrubbed clean
4 Tablespoons olive oil, plus more for greasing
2 Tablespoons butter
2 garlic cloves, chopped
1 Tablespoon fresh parsley, chopped
1 Tablespoon fresh thyme, chopped
salt and fresh ground pepper
(Serves 4)
Directions
Cover a baking sheet with aluminium foil and grease lightly with olive oil. Set aside.
Place potatoes in a large sauce pan. Fill with water, covering potatoes by one inch.
Boil the whole potatoes, with their skins, for 10 minutes.
Drain, then plunge potatoes into cold water to cool slightly.
When potatoes are cool enough to touch, peel off the skins, or leave them on and cut them into thick wedges. Lay them in a single layer on the prepared baking sheet. Set aside.
Preheat oven to 450F.
In a small saucepan set over medium heat, heat the olive oil and butter.
Add the garlic and cook for 1 minute, until fragrant.
Remove the saucepan from heat and stir in the parsley and thyme. Season to taste with salt and fresh ground pepper.
Using a basting brush, brush the herb mixture over the potato wedges, coating them well. Sprinkle with a bit more salt and fresh ground pepper.
Transfer the baking sheet with the potato wedges to the preheated oven.
Bake for 10 minutes, until tender when poked with a fork.
Set your oven to broil and broil the potato wedges for 2-3 minutes, to crisp.
Carefully remove from oven and serve immediately.