German Pancakes Recipe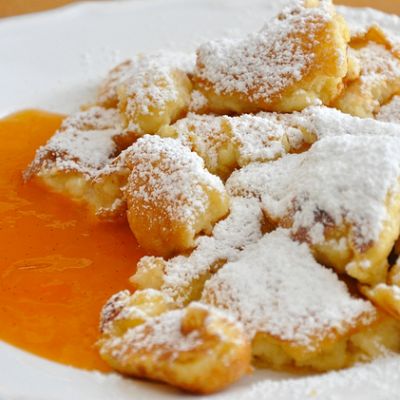 This German pancake recipe is easy to make is baked in a 9x13 inch oven proof dish as one big pancake. Its a great breakfast to make when you have company.
Ingredients
German Pancakes
6 eggs
1 cup milk
1 cup all-purpose flour
1/2 teaspoon salt
Buttermilk Syrup
1 1/2 cups granulated sugar
3/4 cup buttermilk
1/2 cup butter
2 Tablespoons corn syrup
1 teaspoon baking soda
2 teaspoons vanilla extract
Garnish
1/4 cup Tablespoons confectioners' sugar for dusting
Directions
German Pancakes
Preheat oven to 400 degrees F.
Grease a 9 x 13 inch baking dish with butter.
Whisk together eggs, milk, flour and salt until well combined. Pour batter into prepared baking dish and bake for 20 minutes covered with tin foil. Bake for an additional 20 minutes uncovered.
Syrup
While ancakes are baking prepare syrup.
In a small pot bring to boil sugar, buttermilk, butter, corn syrup and baking soda. Boil for 7 minutes, stirring the whole time. Remove from heat and stir in vanilla.
In a medium saucepan, add the first 5 ingredients and bring to a boil. Boil for about 7 minutes.
Cut up the pancakes, place on a shallow dish and ladle syrup on top. Dust with confectioner's and serve hot.