Gingerbread Springtime Cookies Recipe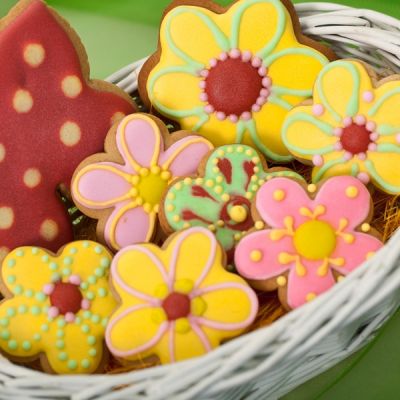 A Very tasty recipe for gingerbread springtime cookies.
Ingredients
Cookies
6 cups all purpose flour
1 Tablespoon baking powder
1 Tablespoon ground ginger
1 teaspoon ground nutmeg
1 teaspoon ground cloves
1 teaspoon ground cinnamon
1 cup butter, at room temperature
1 cup molasses
1 cup packed brown sugar
1/2 cup water
1 egg
1 teaspoon vanilla extract
Icing
4 egg whites
4 cups confectioners sugar
1 teaspoon lemon extract
Directions
In a large bowl, sift together the flour, baking powder, ginger, nutmeg, cloves, and cinnamon.
Using an electric mixer, beat shortening, molasses, brown sugar, water, egg, and vanilla until smooth.
Gradually stir in the dry ingredients, until well combined.
Divide dough into 3 balls, wrap in plastic wrap, and refrigerate for at least 2 hours.
Preheat oven to 350 degrees F.
On a lightly floured surface, roll the dough out to 1/4 inch thickness.
Cut into desired shapes with cookie cutters.
Place cookies 1 inch apart onto a cookie sheet.
Bake for 10-12 minutes or until cookies start to brown.
Remove from the baking sheet to wire racks to cool completely.
To make the icing, Beat egg whites in clean, large bowl with mixer at high speed until foamy.
Gradually add sugar and lemon extract. Beat at high speed until thickened.
Divide then add desired food coloring and immediatly pipe onto cookies.