Glazed Apricot Tart Recipe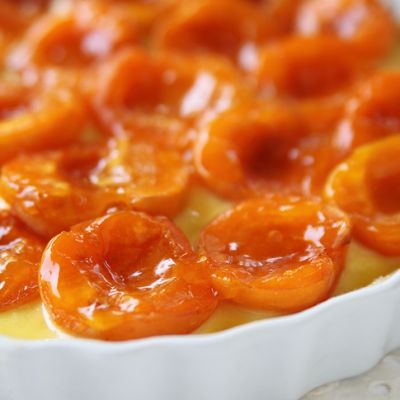 This glazed apricot tart recipe is fresh and sweet and perfect at a summer dinner party.
Ingredients
Makes (1) 8 inch tart tin
Crust
1/2 cup granulated sugar
1/2 cup butter, at room temperature
1 egg
1/4 cup finely ground almonds
1 1/2 cups all-purpose flour
Filling
8 -10 fresh apricots
3/4 cup granulated sugar
4 Tablespoons melted butter
6 Tablespoons heavy cream
2 eggs, lightly beaten
1 teaspoon vanilla extract
1/2 teaspoon almond extract
1/2 cup finely ground almonds
1 teaspoon finely minced fresh lemon zest
Glaze
6 Tablespoons apricot jam
2 -3 teaspoons water
Serves 6 - 8
Directions
Crust
Place sugar and butter into a mixing bowl and using an electric mixer, beat until light and fluffy.
Add in egg, and beat until smooth.
On low speed gradually add ground almonds and flour, and mix until its just combined. Form a ball with dough cover and place in refrigerator for an hour.
Roll out chilled dough and line a large tart pan cutting off excess dough (if you have dough left over you can make mini tarts with it).
Preheat oven to 350°F.
Filling
Wash and slice apricots in half and take out pits. Set aside.
In a mixing bowl, whisk together sugar, melted butter, cream, eggs, vanilla, almond extract, ground almonds, and lemon zest.
Pour filling into prepared tart tin, and arrange apricot slices on top of filling.
Place into the preheated oven and bake for 20 to 22 minutes, or until tart has set.
Remove and place onto a cooling rack.
Glaze
While tart is baking make a glaze by mixing apricot jam and water.
When the tart is out of the oven and cooling, brush glaze over all apricots.
Let cool, and serve.