Glazed Chicken Breasts Recipe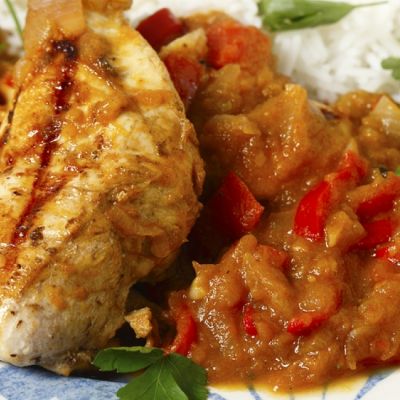 This glazed chicken breasts recipe is seasoned with rosemary, garlic and brown sugar. Delicious served with a side of salsa.
Ingredients
Glaze
1/3 cup olive oil
1/3 cup sliced onion
1 teaspoon chopped fresh rosemary leaves
1 teaspoon finely chopped garlic
1/3 cup packed brown sugar
1/3 cup balsamic vinegar
4 chicken breasts
1/2 teaspoon salt
1/4 teaspoon pepper
Directions
Turn on grill to medium heat.
In a small pot add oil and onions. Cook onions until they become transparent, add rosemary and garlic and cook for about 1 minute. Remove from heat, add in brown sugar and balsamic vinegar. Set aside.
Season both side of breast with salt and pepper.
Place chicken breasts on grill and brush glaze all over chicken. Cook chicken for about 10 - 15 minutes (I like to brush a bunch of glaze on the whole while its cooking). Flip chicken and repeat.
Serve with your favourite sides.