Glazed Strawberry Custard Tart Recipe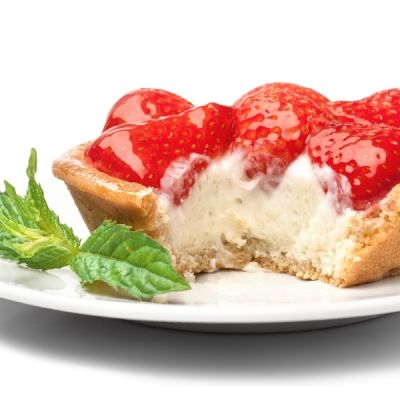 A Delicious recipe for glazed strawberry custard tarts.
Ingredients
Pastry
1 1/4 cups all purpose flour
3 tablespoons granulated sugar
1/2 teaspoon sea salt
8 tablespoons cold butter, diced
1/4 cup cold water
Pastry Cream
5 large egg yolks, room temperature
3/4 cup granulated sugar
3 tablespoons cornstarch
1 1/2 cups milk, heated to a boil
1/2 teaspoon pure vanilla extract
1 teaspoon Cognac
1 tablespoon unsalted butter
1 tablespoon heavy cream
Topping
2 cups strawberries, halved
1/4 cup apricot jelly
1/4 hot water
Directions
To make the cream. in the bowl of an electric mixer, beat the egg yolks and sugar on medium-high speed for 4 minutes, or until very thick. Reduce to low speed, and add the cornstarch, slowly pour the hot milk into the egg mixture.
Pour the mixture into a medium saucepan and cook over low heat, stirring constantly, until the mixture thickens, 5 to 7 minutes. whisk and beat vigorously. for another 2 minutes.
Stir in the vanilla, Cognac, butter, and heavy cream. Pour the custard through a sieve into a bowl. Place plastic wrap directly on the custard and refrigerate until cold.
To make the pastry. Put the flour, sugar and salt mixture in the bowl of a food processor. Add the butter and shortening and pulse about 10 times, or until the butter is in the size of peas. Add the water and process until the dough comes together. Dump on a well-floured board and form into a disk. Wrap in plastic and chill for at least 30 minutes.
Preheat the oven to 375 degrees F.
Roll out the dough and fit into 4 (4 1/2-inch) tart pans. Cut off the excess by rolling the pin across the top of each pan. Line the tart shells with a piece of buttered aluminum foil, butter side down, and fill them with dried beans or rice.
Bake for 10 minutes. Remove the beans and foil, prick the bottom of the shells all over with a fork, and bake for another 15 to 20 minutes until lightly browned. Set aside to cool.
When ready to serve, fill tart shells with the cold custard and arrange the sliced strawberries on top. Mix together the jam and hot water then brush to glaze the top of the strawberries. Serve immediately.