Grandmothers Homemade Cabbage Rolls Recipe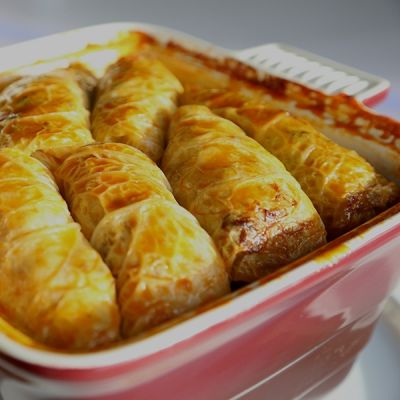 Stuffed with Ground Beef and Rice, this Savoy Cabbage Roll Recipe is easy to make and super delicious.
Ingredients
1 large head of savoy cabbage (frozen overnight)
5 cups pre-cooked rice (about 2 cups uncooked)
2 Tablespoons butter
1 medium onion, finely chopped (about 1/2 cup)
1 pound lean ground beef
1/2 teaspoon sea salt
1 can tomato soup
1/4 cup butter
1/2 cup water
Directions
The night before place a head of cabbage into the freezer.
Preheat oven to 350 degrees F.
Cook the rice by adding 2 cups rice and 4 cups water to a medium pot. Bring to a boil, uncovered. Once it boils, reduce to a simmer and cover for 15-20 minutes until cooked.
Saute the diced onions in butter over medium high heat until they are golden brown. Once they are brown, set them aside to cool. Without washing your pan, saute the ground meat until it is cooked through. Use a wooden spoon to break it up into small pieces. In a large bowl, combine the rice, meat, onions and some salt and pepper to taste. In a small saucepan, combine the water and tomato soup. Bring to a boil and then pour one large spoonful into your casserole pan.
Remove the frozen cabbage from the freezer and place it into a large bowl of hot water. Use a knife to slice the hard base of the cabbage leaves. Remove the leaves one at a time and place on a paper towel to dry. Carefully cut away any hard part of the cabbage stem. When you get to a point in the cabbage where the leaves are too small to use, you can save that portion of the cabbage to freeze and use for homemade soup or lazy cabbage rolls. If the water cools off and the cabbage is not coming apart easily, add more hot water.
One at a time, fill each cabbage leaf with about 3 spoonfuls of filling. Roll at the center of the leaf first, fold in the sides and then continue to roll.
Line the bottom of the roaster pan with a couple of the reserved outer cabbage leaves so that the cabbage rolls do not stick to the bottom. Use your ladle and put a scant layer of tomato sauce. Place the prepared cabbage roll into your casserole dish. Continue until tight together. When one row is done, spoon on tomato sauce and do the next row. Top with remaining tomato sauce. Cover with a lid or tinfoil and bake for 45 minutes.