Grilled Chicken Salad Recipe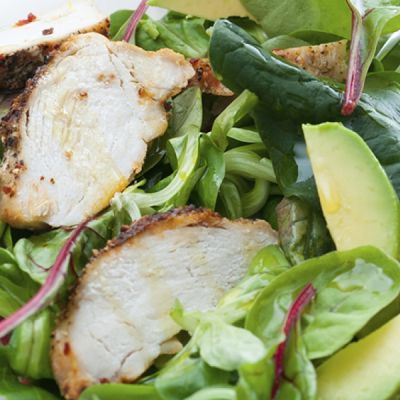 A healthy and filling grilled chicken salad recipe with a tangy dressing.
Ingredients
4 boneless skinless chicken breasts
1-2 avocados, peeled and sliced
8 cups mixed greens
Dressing/Marinade
1/4 teaspoon ground ginger
1/3 cup honey
1/3 cup red wine vinegar
1/2 teaspoon cracked pepper
1/4 cup vegetable oil
1 Tablespoon Dijon mustard
Directions
Dressing/marinade.
In small bowl, whisk together honey, vinegar, oil, mustard, pepper and ground ginger.
Chicken
In a large bowl, place chicken breasts with half of the dressing.
Toss to coat chicken and let marinate in the refrigerator for 30 minutes.
Preheat grill or oven to 400 degrees F.
Grill 20 minutes or until no longer pink in center, Flip chicken half way through cooking time.
Slice chicken into thin rounds.
Serve chicken and avocado over greens.
Drizzle remaining dressing over top of grilled chicken salad.