Grilled Chicken Skewers Recipe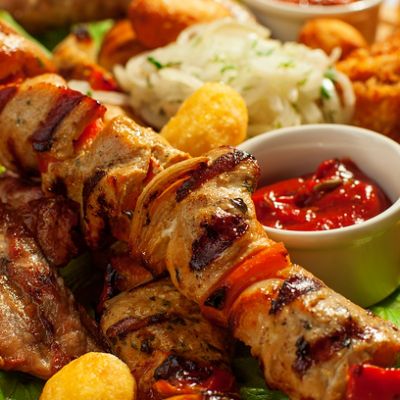 This grilled chicken recipe has a great marinade of oil, garlic, paprika and oregano which make the chicken bites and vegetables taste delicious.
Ingredients
bamboo skewers
4 chicken breasts, skinned and deboned
1/2 red bell pepper, cut into 1 inch squares
2 onions, cut into eighths
1/2 cup oil
3 cloves garlic, minced
1 teaspoon paprika
1/2 teaspoon fresh oregano
1/4 teaspoon kosher salt
1/4 teaspoon freshly ground pepper
(Serves 4-6)
Directions
Presoak the skewers for one hour.
Cut the chicken breasts into bite sized cubes.
Cut the red bell pepper into 2 inch squares
Cut the onions into sections, so they have a few layers in each bite
In a mixing bowl, stir together the oil,minced garlic, paprika, finely chopped oregano, salt.
Drop the chicken pieces into the bowl of marinade and toss to coat each piece well.
Thread the onion, chicken, and peppers alternately onto the skewers.
Place the skewers into a shallow dish and pour any remaining marinade over.
Cover with plastic wrap and refrigerate for minimum of2 hours.
Turn on the barbecue and heat to medium.
Place the prepared skewers onto the grill and bake for 20-25 minutes or until there is no pink showing in the meat.
If you do not have a barbecue, you can cook these in the oven as well on a foiled lined baking dish at 375 degrees.