Grilled Duck With Berry Compote Recipe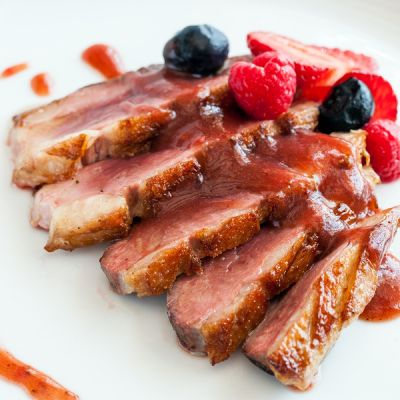 This grilled duck with berry compote is a sweet meal for special occasions.
Ingredients
4 large duck breasts
3 Tablespoons vegetable oil
2 Tablespoons vinegar
1 red onion, diced
1 Tablespoon raspberry jelly
1 Tablespoon sugar
1/2 cup chicken stock
1 Tablespoon cornstarch
1 cup blueberries
1 cup raspberries
Directions
Preheat oven to 450F.
In large bowl, mix together oil, vinegar.
Add duck and coat each breasts before placing on greased baking sheet.
Cook breasts for about 15 minutes, turning once.
While duck is cooking, make the sauce.
In frying pan, cook red onion in oil, about 3-4 minutes.
Add onion, jelly, sugar, chicken stock, and cornstarch and cook for another 10 minutes.
Serve over duck with fresh raspberries and blueberries.