Ham And Bow Pasta Bake Recipe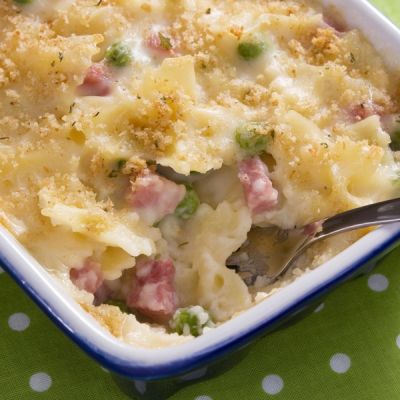 A Hearty recipe for ham and bow pasta bake. Great served with a salad.
Ingredients
2 cups bow pasta
2 cups ham, cubed
2 Tablespoon butter, melted
3 Tablespoons flour
1/2 teaspoon salt
1 teaspoon dill, chopped fine (optional)
2 cups milk
1 cup mozzarella cheese, grated
1 1/2 cups peas
1 1/2 cups bread crumbs
Directions
Pre heat oven to 350 degrees F
Grease a 9x13 inch baking dish.
Cook pasta in according to package directions.
Heat a sauce pan to medium heat, Melt butter and stir in flour and salt.
Add milk and bring to a low boil.
Stir in dill.
In the baking dish, combine the sauce with pasta, ham and peas, stir to cmbine.
Sprinkle cheese and bread crumbs evenly over top.
Bake 15 minutes or until heated through.