Ham And Cheese Casserole Recipe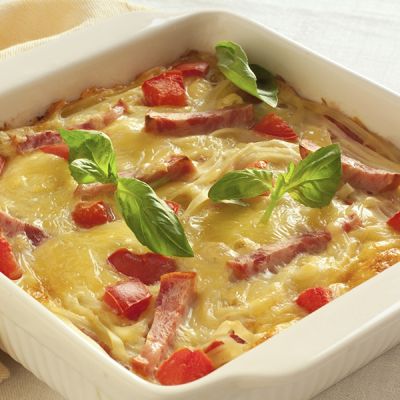 This ham and cheese casserole has potatoes and a rich cheese sauce in it. Would be very tasty served with a salad and garnished with fresh basil.
Ingredients
4 medium potatoes, peeled, cubed, washed and boiled
3 cups ham, cut into pieces
1 small onion, chopped
1 small red pepper, chopped
2 cups shredded cheddar cheese
1 pint heavy cream
salt and pepper
Directions
Preheat oven to 350 degrees F.
Grease an oven proof baking dish butter.
Cook the potatoes first. Put the prepared cubes into a saucepan. Just put enough water to cover them, bring to a boil and cook for about 15 minutes until are just soft.
Drain the water and set aside.
Place the potatoes, ham, onion, and red peppers into the prepared baking dish.
Sprinkle with salt and pepper.
Melt the cheese into the heavy cream in saucepan over medium heat.
Pour melted cheese over ham and vegetables.
Bake for 30-35 minutes.