Healthy Brownies Recipe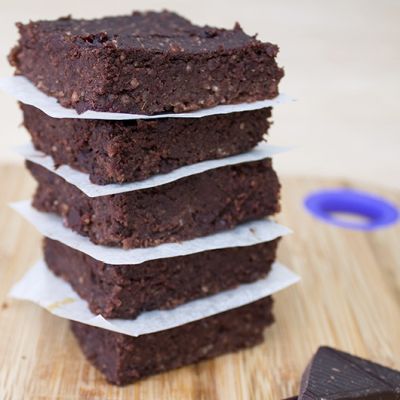 This healthy brownie recipe is made with high protein quinoa, real cacao powder and sweetened with dates.
Ingredients
1/4 cup in cooked quinoa
(or 1 cup cooked quinoa)
1 cup pitted dates
1/4 cup raw cacao powder
2 tablespoons coconut oil (melted)
1 teaspoon vanilla extract
sea salt
Directions
If you do not already have quinoa from another meal, then begin by cooking it.
Place quinoa into a medium saucepan and cover with double the water. (Water:Quinoa = 2:1 ratio).
Bring to a boil, turn down heat, and cover with lid on simmer for 12-15 minutes until light and fluffy.
Let cool before using in recipe.
Preheat your oven to 350F.
Grease 8x8 inch baking dish with butter.
In a food processor, blend all the ingredients until smooth.
Pour this sticky mixture into baking pan.
Bake for 20 minutes.
Let cool before cutting and serving.
To store: line between brownies with parchment paper to keep from sticking and keep in an airtight container in the fridge.