Healthy Chocolate Cake Recipe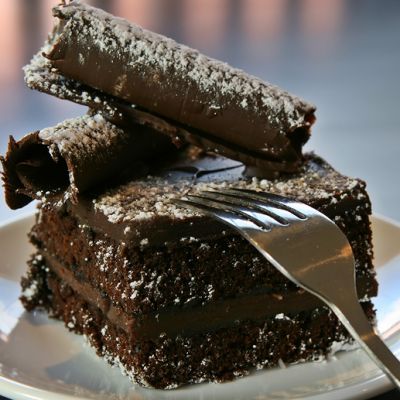 This healthy chocolate cake recipe is made with some pretty interesting ingredients that might make you wonder just how it is going to taste, but the end product is nothing short of a miracle.
Ingredients
Date Paste
15 ounces pitted dates
3/4 cup water
1 teaspoon pure vanilla extract
1/4 teaspoon coarse salt
Cake
14 ounces raw beets, peeled and cut into thin slices
3/4 cup applesauce
1/3 cup date paste (see see above)
3/4 cup buttermilk
3/4 cup egg whites
3/4 teaspoon vanilla extract
1 1/4 cup spelt flour
1 Tablespoon baking powder
1 1/2 teaspoon baking soda
3/4 teaspoon cinnamon
3 Tablespoons cornstarch
1/2 cup extra/special dark cocoa powder
Frosting
1 small avocado, mashed
1/2 cup tofu or yogurt
1/4 cup cocoa powder
1/4 cup honey
1/4 cup chocolate chips, melted
(Makes one 8-inch double layered cake)
Directions
Date Paste
Tightly pack the pitted dates in a glass jar.
Add the water. Cover and let the dates soak overnight.
Once the dates have soaked overnight, pour the entire content of the jar into the bowl of a food processor.
Add the vanilla and salt.
Process in the food processor for 5 - 8 minutes, until smooth and creamy.
Transfer the date paste back to the glass jar and keep in the refrigerator until ready to use.
Cake
Preheat oven to 350ºF.
Grease 2 8-inch square cake pans with butter. Dust with cocoa powder and set aside.
In the bowl of a food processor, add the beets, applesauce, date paste, buttermilk, egg whites and vanilla.
Pulse in the food processor until mixed and smooth.
In a separate large bowl, combine the spelt flour, baking powder, baking soda, cinnamon, cornstarch and cocoa powder.
Pour the wet ingredients into the dry and mix until just combined.
Pour batter equally between the two prepared cake pans.
Transfer to the preheated oven and bake for 30 minutes, or until a toothpick inserted into the centre of the cake comes out clean.
Remove the cakes from the oven and allow them to cool for 10 minutes before removing them from the pans.
Remove the cakes from the pans and set on a wire rack to cook completely.
Meanwhile, make the frosting.
Frosting
In the bowl of a stand mixer fitted with the paddle attachment, combine the avocado, tofu/yogurt, cocoa powder, honey, and chocolate chips.
Blend until completely smooth, scraping down the sides of the bowl, if necessary.
To assemble the cake
Place one cake on a serving platter and spread a thin layer of frosting over the top.
Place the second cake on top of the first and spread the remaining frosting over the cake.
Transfer the cake to the refrigerator and allow to chill over night. Icing will thicken as it chills.
When ready to serve, remove cake from the refrigerator and allow to sit for 10 minutes before serving.