Homemade Apple Turnovers Recipe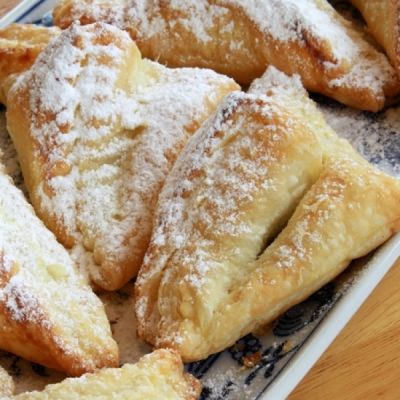 The recipe for homemade apple turnovers is so tasty and worth the effort.
Ingredients
Pastry
3 cups unbleached all purpose flour
1 1/2 Tablespoons sugar
1 1/2 teaspoons salt
1 1/2 cups cold unsalted butter, cut into ¼-inch pieces
9 Tablespoons ice water
2 teaspoons juice from 1 lemon
Apple Filling
4 large Granny Smith apples
2 cups granulated sugar, divided use (½ cup for brushing at baking time)
3 teaspoons lemon juice from 1 lemon
½ teaspoon salt
2 teaspoons ground cinnamon
Garnish
*Optional - Confectioners' to dust
Directions
Pastry
Place flour, sugar and salt in a food processor and pulse to combine.
Add a quarter of the butter pieces and process until the butter is in dime-size pieces, four 1-second pulses.
Add remaining butter and process to coat the cubes with flour, two 1-second pulses. Transfer mixture to a medium bowl.
Combine ice water and lemon juice in a small bowl.
Add half of the liquid to the butter mixture and toss until just combined.
Keep adding liquid, 1 tablespoon at a time, until the dough will clump together in your hand.
Turn the dough out onto a work surface. The dough will be quite dry and crumbly.
Divide dough into 8 small sections, and work quickly so the butter does not melt.
Use the heel of your hand to press and drag small portions of dough forward to fraisage the dough.
When done with all sections, gather dough together, andrepeat the fraisage.
Press dough into an 8-by-4-inch rectangle, wrap in plastic and refrigerate 1 hour.
Line 2 baking sheets with parchment paper. Remove dough from refrigerator and roll dough into a 20-by-15-inchrectangle, about 1/8-inch thick. Trim and cut the dough into twelve 5-inch squares and place 6 on each baking sheet.
Place both sheets in refrigerator until ready to use.
Apple Filling
Peel apples and grate them into a mixing bowl. Combine the grated apples with 1 ½ cups of the sugar and the lemon juice and salt in a bowl. Set aside for 15 minutes. Drain any liquid into a small bowl.
Filling Turnovers
Working quickly with one baking sheet at a time, place dough on a work surface, put 2 tablespoons filling (squeezed of any excess liquid) in the center, then moisten two adjoining edges with finger dipped in apple liquid. Fold top portion of dough over the bottom, making sure to overlap the bottom portion by 1/8 inch. Pinch the edges tightly together.
With wide metal spatula, transfer to baking sheet. Repeat with remaining pieces of dough.
Chill the filled turnovers in the refrigerator for 30 minutes.
Baking
Preheat oven to 375degrees F.
Adjust oven racks to upper- and lower-middle positions. In a small bowl, combine remaining ½ cup sugar with cinnamon.
Brush or mist turnovers lightly with water, then sprinkle with cinnamon sugar. Bake until golden brown, 25-30 minutes,
rotating sheets from front to back and top to bottom about halfway through baking time.
With a wide metal spatula, transfer turnovers to a wire rack to cool.
Dust with powdered sugar if desired.
Serve warm or at room temperature.